January 25, 2019
VPL – Vantage Point Logistics
Candice & Co. and Verb Garden, Inc. |
OVERVIEW
VPL, a Columbus-based leader in the freight management industry, called us in to help them create a brand strategy for their upcoming SaaS, VPL Surpass™. Unsure of how to position this brand-new concept, which enables hospitals and IDNs to self-manage their own freight, they hoped we could come up with a fresh way to reach their target audience and garner interest in this revolutionary new technology platform.
What we discovered in the course of our conversation was that the company had not yet positioned their existing full-service program. We asked them to take a step back, work with us to brand their primary business as an "industry pioneer that was reinventing freight management," and then spin off VPL Surpass as their latest reinvention. We not only helped them successfully launch VPL Surpass, we also gave them a solid platform from which to launch subsequent new technologies.
Once their brand story was solidly in place, we were able to create a clear brand image, including a new logo, colors, and consistent brand standards, which ensured the company presented themselves consistently across a wide range of platforms, including website, social media, advertising, email, trade show exhibits, informational brochures, and marketing campaigns.
TARGET AUDIENCE
Our target audience is supply chain executives serving in the top 150 healthcare organizations in the U.S. These are busy people who are continuously looking for ways to streamline and simplify operations and improve their organization's bottom line.
GOALS/OBJECTIVES
Our goal was, and continues to be, to make the VPL brand clear and consistent across all platforms, so it is immediately identifiable as the technology company that is leading the way in the reinvention of freight management.
RESULTS
To date, VPL's updated brand has garnered outstanding results.
Our 2018 Integrated Marketing Campaign for the company won a Transportation Marketing & Sales Association (TMSA) Compass Award of Excellence, highlighting our role in raising the standard of marketing innovation and sales performance in the transportation and logistics industry. The company also won three other Awards of Excellence in the areas of Content Marketing, Direct Marketing, and Sales & Marketing Collateral.

In a direct-mail campaign, we targeted 150 VPs and were granted onsite meetings with 37 of them—a 23% success rate

Website traffic increased dramatically in 2018, with 10,350 user hits (up 103%) and 57,486 page views (up 250%)

The company doubled its market share, and experienced a 105% increase in net revenue

VPL's exceptional 2018 growth resulted in a recent round of investment funding totaling $9.5M, which will enable VPL to double employee headcount and triple their office space in 2019
Brand Identity and Logo Redesign
Website Design
Yearlong Marketing Campaign
We created four (quarterly) campaigns in which we sent pertinent (and enjoyable) information outlining our services and the advantages of working with VPL to the top 150 healthcare organizations in the U.S. Our goal was to get key decision makers to take an onsite meeting.
Q1 CAMPAIGN  |  VPL Assumption Challenge
Showed potential customers that VPL has the ability to overturn many of the outdated assumptions they have regarding freight management. The first mailing was a jigsaw puzzle, in which a question regarding the time it takes to process freight management invoices was printed on the box, and answered once the puzzle was completed. Six follow-up emails were sent over a period of six weeks.
Q2 CAMPAIGN: Never Fly Solo
We created and sent potential customers this book about partnership and performance along with a message of "Let's Break the Performance Barrier, Together." In the weeks that followed, we sent bookmarks with pertinent quotes from the book that also highlighted key components of the VPL business philosophy.
Q3 CAMPAIGN: To Know Us is to Trust Us
This campaign was used as an opportunity to build rapport by introducing key members of the VPL team to their potential customers.  Samples of each team member's favorite snack was sent along with a short bio. This campaign was kicked off with a box of six snacks, each corresponding
to a benefit of working with VPL.
Q4 CAMPAIGN: 212 – The Extra Degree
For the final mailing, we sent a copy of the book 212°, which discusses the way one extra degree of effort can produce extraordinary results. We followed up with four mailed cards that illustrated how
VPL always goes the extra mile.
Print Ads for Trade Show Programs and Industry Publications
Informational Brochures
VPL Technology Suite of Services Logo Design
Trade Show Design
Logo Merchandise
Identity Package, Including Stationery
Social Media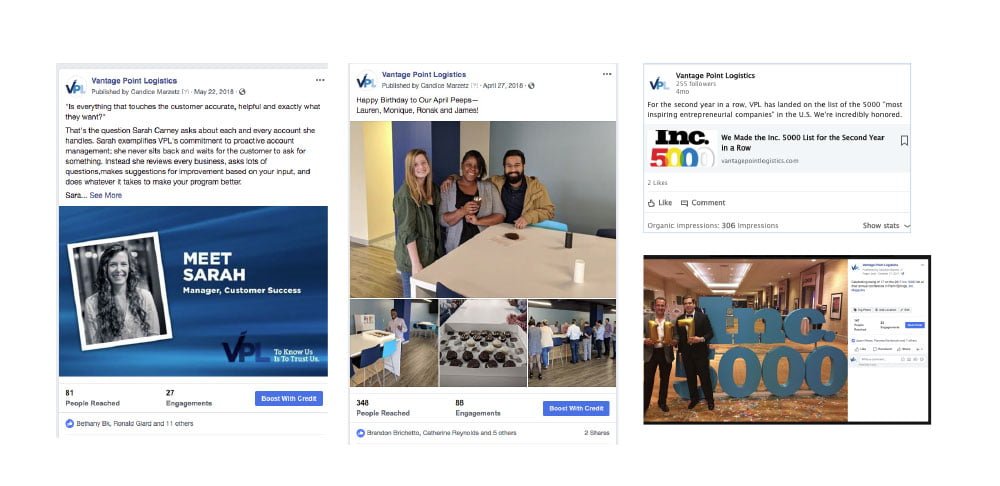 Before:
Candice & Co. and Verb Garden, Inc. |
Brand Strategy & Development, Logo Design, Creative Direction, Storytelling & Copywriting, Social Media, Website Design, and Photography Direction.
Photography  |  Stephen Webster
Styling and Photography Direction  |  Candice & Co., Candice Marzetz
Website Developer |  Jonathon Harris, Demo38
SHARE